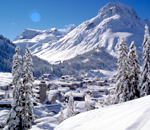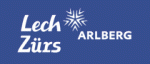 Lech
| | |
| --- | --- |
| Altitude | 1000m |
| Highest Lift | 2450m |
| Longest Run | 5km |
| Kms of Piste | 276km |
| Snowboard Parks | 1 |
| | |
| --- | --- |
| Total Runs | 54 |
| Beginner Runs | 27 |
| Intermediate Runs | 49 |
| Advanced Runs | 24 |
| Total Lifts | 34 |
Winter Wonderland
Guaranteed snow together with world-famous hospitality, lots of tradition and sophisticated tranquillity have been attracting winter sports enthusiasts from all over the world for more than a century to this Eldorado of winter sport. It is located between 1,450 and 2,450 metres aand is one of the distinguished circle of 12 locations dubbed "Best of the Alps". But it's not only those with sporting ambitions who get their money's worth in this heavenly winter landscape, because there is also something on hand for walkers, gourmets and culture lovers in the winter season
Skiing in perfect conditions
The "Arlberg Card" gives you contactless access to every cable car in all 5 Arlberg locations and you can enjoy unparalleled skiing on 280 km of ski runs and 180 km of deep powder snow runs. Guaranteed snow, from the end of November to the end of April, and unrivalled variety make this skiing region a home from home for winter guests from all over the world. The appeal of the mountain and the snow, and the fun they provide, is exceedingly powerful and everything in Lech Zürs am Arlberg revolves around them.
World's best skiers
Those who spend their skiing holiday in Lech Zürs am Arlberg can count themselves among the best skiers in the world. Because the high level, and by that we don't mean its location between 1,300 and 2,800 meters above sea level, of skiing in Lech Zürs am Arlberg is unequalled worldwide. There are several reasons for this. No-one who has ever experienced a crystal-clear winter's morning on a freshly prepared piste or an untouched slope of deep powder snow, can escape the fascination, or the magic, of this area and the passion for skiing.
The original constitution of the Arlberg Ski Club, founded in 1901, really makes this point best: "Enchanted by nature, inspired by sport, imbued with the need to create a humble meeting point in Arlberg for all friends of this noble pleasure, the excursionists involved in this impromptu Act felt moved to found the Arlberg Ski Club." It is these regular guests who make the pilgrimage to Arlberg year after year, maintain true mountain friendships with innkeepers and ski instructors, and are driven to improve themselves continuously. Not least because the local people themselves see winter sport as a part of their identity and set them an appropriate example.
All images are used with permission of and are copyright of Lech Tourist Office and must not be reproduced without their permission.