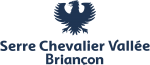 Serre Chevalier
| | |
| --- | --- |
| Altitude | 2800m |
| Snowboard Parks | 1 |
| Snow Cannons | Yes |
| | |
| --- | --- |
| Total Runs | 81 |
| Beginner Runs | 13 |
| Intermediate Runs | 55 |
| Advanced Runs | 13 |
| Total Lifts | 59 |
| Gondolas | 1 |
This is one of the biggest ski resorts in Europe with 250 kilometres of pistes and with skiing at altitudes between 1200 and 2800 metres, it is suitable for everyone from beginners to expert skiers!
Serre Chevalier, in the Alps, is a long south-facing valley between the Col du Lautaret and Briançon with several villages and hamlets dotted along the way, ranging from the ultra modern to the most traditional.
Serre Chevalier is in France's Hautes-Alpes department, part of the PACA or Provence-Alpes-Côte d'Azur region. The Hautes-Alpes is France's only department in the alpine chain situated entirely in the mountains, making it the highest department in the Alps. The ski area covers several 'communes' (the name for France's smallest administrative districts).
Le domaine skiable s'étend sur plusieurs communes
Briançon
Puy Saint André
Puy Saint Pierre
Chantemerle (St Chaffrey)
Villeneuve (La Salle les Alpes)
Le Monêtier les Bains

Where does the name Serre Chevalier come from?
A valley as full of history as Serre Chevalier doesn't have to ask a designer to come up with a logo for its resort. Thanks to its local heritage, the villages of Serre Chevalier came together under the banner of the 'Crowned Eagle' that appears on the coat of arms of the Borel du Bez family.
The name Serre Chevalier comes from the ancient 'Oc' dialect of southern France in which 'serre' meant a hill or mound and 'cambeou' was a flock… And it's not difficult to work out the rest. Skiing was very much in vogue in the period after the First World War and Briançon was already attracting the world of show business. The Second World War would put an end to all that…
Opened in 1941, the Chantemerle 'téléphérique' or cable car was Serre Chevalier's first ski lift and was the longest ski lift in Europe. By the 1950s the resort was really starting to take off.
The name Serre Chevalier was finally adopted in 1968 and, with the inclusion of Mônetier les Bains, in 1984 the resort of Grand Serre Chevalier was born. In 1990 it was joined by the completely new Briançon ski area, and today the resort as a whole is known as Serre Chevalier.
All images are used with permission of and are copyright of Serre Chevalier Tourist Office and must not be reproduced without their permission.